Profiles
PaanPoee Center workforce helpers, teachers, supervisors, etc.
PaanPoee Libraries are handled enthusiastically by field staff of Vanasthali in most of our centers, also by social workers in many small localities in remote areas and even by family members of readers and teachers.
They treat our books like a treasure. It is not surprising – the wonderful world of books offers to them joy, knowledge and empowerment, a win-win situation for the readers and the assistants.
They participate in the PaanPoee activities, whether held in schools, village halls, temples or even in the open, even from the homes of willing elders of the communities. Their profile is as follows:
Background of helpers, teachers and social workers
Coming from poor to low income families, mostly they face severe opposition from in-laws and others in the family to start with. But happily it invariably melts away soon.
The reason?
The changes in their personality due to exposure to our camps, to society, training they get, reading PaanPoee books
AND
in no small measure due to the monthly compensation- howsoever meagre, they bring home, giving them a sense of pride and some independence.
Q & A session of PaanPoee helpers in progress
| | | |
| --- | --- | --- |
| | | |
| Shibir (camp) for orientation of Library Assistants | | Another caste, another community but similar experiences... |
| | | |
Education
Village girls / young wives schooled upto10th std. or more, fully from households. But they show motivation and initiative to get trained and to start up a Balwadi (KG school) of 20/25 kids of their community for which they do '6-month Vanasthali Balwadi teacher' training course.

It is amazing to see profound and rapid changes in their lives and personalities. Our associate NGO Vanasthali organizes get-togethers in shibirs (camps), gives exposure to other Social NGOs, helps organize kids' functions for their communities and elders, and further empowered by 'PaanPoee' inspiring books which they help to circulate, they show transformation which is unbelievable!

Some 'Synergy' there indeed, between PaanPoee and Vanasthali!
Most importantly, over the years, each of our village workers becomes a powerful agent for social change, starting from themselves!
Compensation paid by VRDC for their field staff : Rs. 450 to Rs. 1200 per month and ' PaanPoee' gives adhoc incentive amounts twice a year.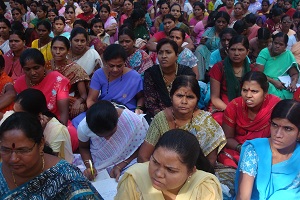 Training Teachers for Libraries
PaanPoee Readership



Pre-school kids (3-6 yrs),


Children from Primary & Secondary Schools


Their teachers and adults, villages communities


Their guests, family members, neighbours

ALL FOR FREE

Their feelings are expressed by them most eloquently in the Responses we receive.