Today & Proposed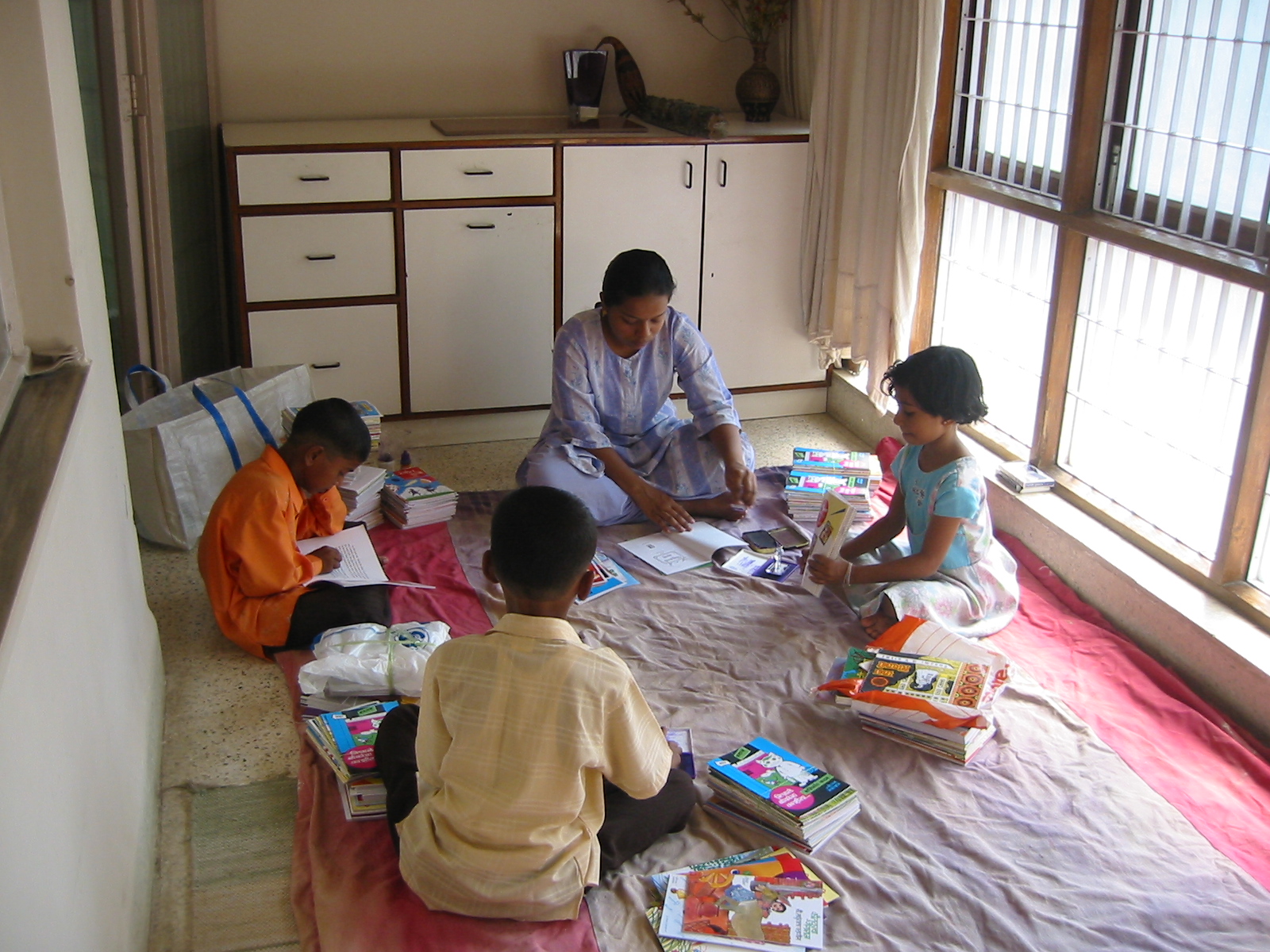 We two operate from our home, make repeated visits to bookshops/ a few publishers for selection, get them at home, sort, stack, bundle, register, affix labels, put in our car, carry to central VRDC office. The young ones around in the neighborhood and our part time domestic help lend a helping hand.

There is therefore no office but our home, no staff except we two, and our own PC, stationery and typing effort. No furniture, no book shelves, but our time to do all this.
| | | |
| --- | --- | --- |
| | | |
| | | |
| Help in Accounts | | Help inside as well as with the Library van in the field |
At the other end, we are happy to be working voluntarily for NGO VRDC whose staff in Pune office gladly help us in accounts, some follow-up via Balwadis, in suggesting new library centers and leads and a host of other helps. This 26-year old NGO is our channel through which our HOH and other grants have been routed. VRDC has about 640 balwadi teachers, hobby class workers and 50 supervisors. They cheerfully help in all the mechanics of the PaanPoee library/ balwadi and hobby class centers.
Depending upon the quantum of funding we are set to do the following:

Appoint a part time office assistant for PC/ typing, accounting, regular follow-up of centers' work, field report follow-up actions.

Hire a part time errand guy for manual assistance, collecting from shops/publishers, mailing to villages, stacking and occasionally delivering to outlying areas/centers.

Taking on board three more members as a team to participate in all aspects of our work. This will be a team of five of us hereafter.

Hire in villages and sub centers local young workers (10th class or about on).

Equip us with appropriate stationery like letter-heads, publicity material, a CD about the PaanPoee- HOH village libraries project activity.

Travel to existing and prospective areas to boost the quality, quantity and scope of the Centers.

Start a mobile library …. Van carries bulk books to main centers and from there, service smaller centers/ villages.
Before we started giving away books we had no idea how sorely this one single activity was needed, can change so many lives, so many attitudes and create superior people and superior communities.
We can surely budget, execute and closely follow up what you empower us to undertake.